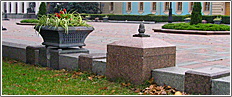 More

Information
About Us
North Fork Bedrock LLC is a landscaping and stone materials supply shop located on the north fork east end of Long Island in Cutchogue, NY. The store opened in 2000, and is locally owned by Greg Kaelin. A 30-year veteran…
read more
WELCOME

TO NORTH FORK BEDROCK LLC

North Fork Bedrock LLC is a contractors' supply yard, DIY project shop, and all-around resource for landscape and masonry materials and equipment.

We stock:
Pavers and paving stone
Sand
Gravel
Brick
Mulch
Cement and cement block
Commercial building block
Thin brick
Natural stone
Manufactured and veneer stone
Blue stone
Sandstone
Limestone
Thin stone
Hand tools, masons' tools and repair tools (saws, cement mixers, cut saws, trowels, adhesive, diamond blades, jointers)
Equipment (sell and repair)
Fireplace products (chimney caps, flue pipes, cast-iron elements)
Outdoor kitchen products
Barbecue pit products
Columns and piers (driveway and entryway)
Located in Cutchogue on Long Island, NY, North Fork Bedrock is a family-owned business. We go out of our way to provide exceptional customer service to homeowners and gardeners, as well as builders, masons, landscapers, designers, architects and contractors. We do it all, from helping tradesmen get started in the business, to helping homeowners find a contractor or accurately estimate the cost of building a new retaining wall or stone patio themselves.

In the store, we have a CAD hardscape imaging program that shows, for example, what a backyard will look like with a certain kind of stone. The program reads photos and allows our clients to get a very accurate picture of how their design will turn out—before they buy the materials.

Visit our Project gallery for ideas and inspiration, or shop our Manufacturers page to see the products and tools we sell. Contact us today for a free estimate on your project materials, or delivery to your job site.