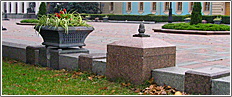 More

Information
Home
North Fork Bedrock LLC is a contractors' supply yard, DIY project shop, and all-around resource for landscape and masonry materials and equipment…
read more
CONTACT

US

Call us at 631-734-5804 for a free estimate, or use the fill-in form below to send us a question. We're happy to provide answers and offer delivery to Long Island and Connecticut (contact us for rates).



North Fork Bedrock LLC
265 Cox Lane
P.O. Box 925
Cutchogue, NY 11935

Phone: 631-734-5804
Fax: 631-734-5853
Email: nofkbed@optonline.net

Office Hours:
Monday – Friday, 7:30 a.m. – 5:00 p.m.
and Saturdays 7:30 a.m. – 12:00 p.m.