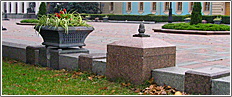 More

Information
Services
North Fork Bedrock in Cutchogue, NY offers a full range of products, available in store and for delivery. Visit our manufacturers' websites to view the brick, stone, pavers, sand, gravel, cultured stone, tools and equipment we stock…
read more
ABOUT

US

North Fork Bedrock LLC is a landscaping and stone materials supply shop located on the north fork east end of Long Island in Cutchogue, NY. The store opened in 2000, and is locally owned by Greg Kaelin. A 30-year veteran of the construction trade, Kaelin also draws upon nearly 70 years of knowledge passed down from his father and grandfather. His family has serviced the area in masonry products and equipment since 1932.

Whether you're a homeowner planning to pave a patio, or a contractor in need of product expertise, you can expect exceptional service from Kaelin and his team.

North Fork Bedrock serves tradespeople (contractors, builders, landscapers, architects, chimney repairers, masons and designers) and DIY customers from Montauk to Manhattan and Connecticut. Additional services include:
Materials and equipment delivery at reasonable prices
Free cost estimates for any job
Landscape imaging services available in store
Visit the Manufacturers page for a list of the quality products sold at North Fork Bedrock, and visit the store or call 631-734-5804 today.